Today I'm answering quizzes, I know inquiring minds want to know so I thought I'd divulge a few details about myself to you…
You Have a Type A Personality
You are ambitious, driven by your desire to get things done. Type A personalities are characterized by their drive and intense work ethic. You are competitive; you want respect, not affection. You may become irritated when you have to wait on a line or at a red light.
This next quiz was really fun answering, and I was kind of surprised at the result believe it or not:
Are You More Angel Or Devil
You are :
30% Angel and 70% Devil
You are quite a devil, the angel in you keeps you in line some of the time but the devil seems to come out in you quite a bit more often.
Take the Are You More Angel Or Devil quiz.
Now we'll find out what kind of pie I am: 😉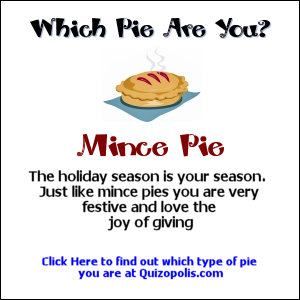 Did you see that one coming? I like to give, but Mince pie? I couldn't be cherry or apple? Mince, really?
Now the order of the day for you guys now is to answer these same quizzes (I promise they're not long) and put your results in the comments!
Nice to know you!