I have been branded a Kick Ass Blogger by Susan over at LilMomThatCould. I can't say I disagree with her, and she would know because it takes one to know one. 😉
The award originated from Mammadawg.com, so head over there for the code.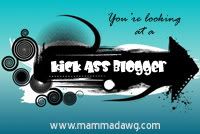 Now I need to brand five more bloggers with the Kick Ass Blogger award. It shall it be…
FatGrrl.com is a new favorite of mine, she is sassy and definitely Kick Ass. Another new blog I'm reading lately is thanks to FatGrrl Chubby Pigeon…I can't describe it…you just have to check her out. I can't leave out CardioGirl, always a pleasant visit.
A blog I just found today that is massively entertaining, poking fun at everything and anything…Deliciously Tastless this site lives up to its name and cannot be described, it's like a train wreck, you can't stop staring. 😈 Or like this where you wanna keep watching until something happens.
I'm throwing in this link for shits and giggles because it's a great article, and makes damn good sense. And this too just because I'm feeling a little crazy today…must be this cold.
Now for the fifth blogger to be bestowed the Kick Ass Blogger award is Dazd and Confused from Here a fun blog I stop by and that you should check out too.
I'm sad to say several of the bloggers I wanted to link to are either no longer blogging or their sites are down. Either way it's sad for me and you because they were great.
Now my Kick Ass Blogger self is gonna go lay down. I've come down with something and I sound like I'm using a lot of d's when I talk and I can't breathe. Must be some ragweed in the area….
Monday Mojo will be our belated voting post. I've just gotten another photo for the contest just today, so tomorrow come back and vote on the Winner of the Week!